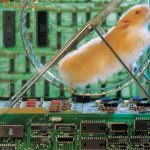 Do you ever feel like the hamster? Your business isn't growing at the pace you'd like and you seem to be just spinning your wheels?  I've felt that way from time to time.  In order to take your business to the next level, there are five areas of focus you should not neglect.
1.  Content: This is the only way people will get to know what you do and what you have to offer.  Your blog should be your home for your content, and should allow you readers to get to know you through informative topics where you share your knowledge.
2.  Traffic:  Traffic or readers are essential to our business.  We want to invite and encourage visitors to our website to read and comment on our posts.  At the same time we want to return the compliment by commenting on the blogs of fellow bloggers.
In the interest of growing our knowledge a strategy that was recommended to me quite some time ago, and which I've found beneficial is to take time to (more…)