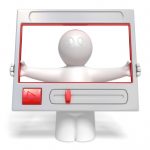 The value of using video in online marketing strategies has been highlighted and re-emphasized.  Many of us are hesitant to do anything new because of not knowing how to do it.
Earlier this year one of the assignments in a Course I was taking was to create a video on YouTube using Google Search Stories.  Prior to this I'd never heard of Search Stories.  You can view my Search Story by clicking here.  Make sure your speakers are on. 🙂
After creating the assignment I had no idea how to upload it to my blog and viewed several "How To" videos on YouTube – some of them were very long and detailed.  I kept saying there must be an easier way or so many people would not be doing it.  I then did a Google search and found a very simple method, which I used.  In fact I was amazed at how easy it is to upload a video from You Tube to your WordPress blog.
1. Type URL : http://www.youtube.com
2.  You have an option to search or browse.
3.  Once you find the video you are looking for you can click on the thumbnail image and it will open.
4.  Under the video screen you'll see a box with <Embed>.  Click on the word and the code will be highlighted, which you will copy and paste into your blog post.
5.  Note that you can select the size of the video to match the width of your blog by scrolling down the page and selecting one of the pre-set sizes or enter a custom size.  Once that is done, you go back and click on the embed code and copy the entire code.
6. Go to your Dashboard and either add a new post or get ready to paste the information to existing text.
Here is the critical part!  On the right side of your posting are two tabs: Visual and HTML.  Before pasting the embed code, change the tab to HTML.  Don't worry if nothing shows up. Change the tab back to Visual and keep typing.
7. Save the Draft then 'visit site'.  Voila! Your YouTube video will be there in its shining glory! If you're satisfied, go ahead and click Publish!
Please let me know if you found this useful.  Did I miss a step? Or do you have an easier way? Please share that as well.