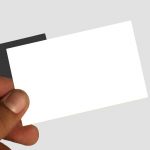 As a business owner there are some things that you are expected to have at all times.  As entrepreneurs with an online business it's easy to forget simple, but effective strategies that can be incorporated in marketing your business offline.
If you attend a local networking event, what is one thing that you must have readily available?  If you're traveling on an airplane, you start a conversation with someone and your online business is mentioned, what do you need to have?  If you're in a book store or library doing research and you mention that what you're researching has to do with your online business, what should be your next logical step?
Business Cards
I'm sure you already answered "business cards."  I may be in the minority, but about a year ago that was an aha! moment for me during an online class.  I have a business card for just about everything I'm involved with offline, but at the time it never occurred to me to promote my online business offline by having cards to promote by online business.
Keep in mind that while a nice business card logo and design is attractive, it's important to make sure that your card tells what you do and that it has your basic information: web address, e-mail, address, and telephone number.  A two-sided business card is  important as the back of the card is a valuable place for an additional message. It could be an invitation to your landing page to opt in for a free report,  invitation to a Teleseminar, especially if you hold one on a regular basis at the same time, or free one-on-one call with you.
One of the advantages of business cards is that people tend to hold onto them longer and will usually add them to their card file.
Brochures
Brochures are more expensive but you can find websites that offer them at a more affordable price.  You may even do them yourself if you have the know-how and then take them to a local printer so that they have a professional finish.  It's better to wait, if you need to, rather that putting out homemade looking brochures that do nothing for your brand or image.
Brochures should be used to give a more indepth description of your business and the services you offer so that your readers can see the benefits to themselves if they take the time to go online and learn more about what you do and join your list.
Why would you need brochures for your online business?  Because as a business owner you're encouraged to attend events in your area, whether these are networking luncheons, Chamber of Commerce events, Small Business Expos, etc.   At these events having a brochure, in addition to your business card, is more meaningful to those who attend your booth or table.
Keep in mind that your goal is always to bring new persons into your community and to your website.  In order for them to be part of your community, you want them to join your list so you can continue to build a relationship with them.
What is your favorite way to promote your online business offline?  In my next post I'll share my favorite way, which is also a really great relationship building tool.