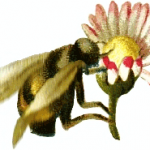 A bumble bee…Is she asking me about my shape, you may be wondering? And, no, this has nothing to do with the brand of tuna. Let's take a closer look at the bumble bee for a few minutes.
The bumble bee's body is large and is supported in the air by two pairs of very thin wings connected together so that they look like just one pair.  A statement attributed to scientists around the mid-19th century and again in the early 20th century concerning the ability of the bumble bee to fly has proven to be a myth.  The view was held  for many years that aerodynamically the bumble bee should not be able to fly, but it flies anyway.  Although the original calculations proved to be faulty and we recognize that the bumblebee was created with the ability to fly, people still continue to quote the thought.
Ivars Peterson goes further to confirm that "on average, a bumblebee travels at a rate of 3 meters (almost 10 feet) per second, beating its wings 130 times per second. That's quite respectable for the insect world."
The bumblebee CAN fly: Women, more often than men, are told that that they cannot possibly achieve a particular goal.  One that bothered me over the years was when a woman saw the flexibility and opportunity to start her own home-based business and her husband or significant other would tell her that they could not possibly manage a home, their children, and manage a business at the same time.  She needed to give it up or not even try.
It's hard work for the bumblebee to keep in flight: Like the bumblebee  it will in many instances require you to step out of your comfort zone, plan for your success, set your goals, and work hard to achieve them.
The bumblebee cannot fly if its wing muscle temperature falls below 30oC or 86°F: We must work our business with consistency and determination recognizing that obstacles will come our way, but we can find ways to overcome them.It's very easy to lose our motivation if we only work sporadically.  We will fail to see any measure of success.  This applies to both offline and online businesses.
I can recall working with team members in my offline business and someone would say to me, "This is not working for me…I'm not making any money."  My answer was usually the same, "I hear what you're saying, but are you working your business?  When was the last time you…..?" (Fill in any of the tasks necessary to attract good customers and provide good customer service).  Their answer was also usually the same.  They had not done anything in or for their business for quite some time but they expected results.  When the results did not come they expressed disappointment.  It's important to keep our "wing muscle" warm so we can "fly."
Are you a bumblebee? What hurdles have you had to overcome to start or stay in business?