In Part I of this topic I introduced the bumblebee as well as featured one of it's characteristic: it's wings in relation to it's body.  You may read Part I on how home-based businesses can benefit from the bumble bee by clicking on this link.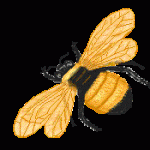 Another characteristic of the bumblebee is that it's a "social insect." Like honeybees they form colonies, only smaller.  Their colonies typically have anywhere from 50 to 200 bees at the max.
How can entrepreneurs who work from home in offline businesses be part of a colony or group?  Like the bumblebee, entrepreneurs need the association and support of like-minded groups.  In fact, groups do not have to be like-minded because these can open horizons and provide a different perspective on your business, therefore enhancing your current business and introducing other opportunities.
Even in small towns there are business groups like the Chamber of Commerce, Rotary Clubs, the Jaycees, Business Network International (BNI), one of the most supportive business networking groups.  There are also other local networking groups, which are not to be confused with meetings for a particular MLM or direct sales group. These are meetings attended by entrepreneurs and small business people  with the purpose of expanding their influence in the community and forming alliances with other local business people.
Meet-ups are growing in various parts of the United States.  During my research for Meet-ups I've found groups that are organized to meet specialized areas, for example there are writers' Meet-ups,  Classical Lovers Meetups, People who are Interested in Raw and Vegetarian Foods Meetups, and the list goes on.
Entrepreneurs who work from home and have an online business also have the opportunity to meet with these offline groups. Â In addition there are online social networking sites like Twitter, Facebook, LinkedIn and many, many more, some of which I am totally unfamiliar.
On these sites you're able to create a Profile and find people who are in your niche so you can connect with them.  In addition, spending quality time of forums can be another place where you can be part of a colony or group.  Here you can learn from the questions asked and answers given as well as contribute to the discussion so that eventually you'll become known to the group and be known as an expert elsewhere.
The lifespan of a bumblebee colony is fairly short.  You can decide whether you'd like to stay within a group or go elsewhere, but keep in mind that  you should desire to be part with a purpose:  to grow and provide growth, as well as to give and receive support.