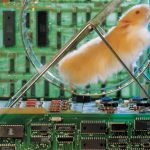 Do you ever feel like the hamster? Your business isn't growing at the pace you'd like and you seem to be just spinning your wheels?  I've felt that way from time to time.  In order to take your business to the next level, there are five areas of focus you should not neglect.
1.  Content: This is the only way people will get to know what you do and what you have to offer.  Your blog should be your home for your content, and should allow you readers to get to know you through informative topics where you share your knowledge.
2.  Traffic:  Traffic or readers are essential to our business.  We want to invite and encourage visitors to our website to read and comment on our posts.  At the same time we want to return the compliment by commenting on the blogs of fellow bloggers.
In the interest of growing our knowledge a strategy that was recommended to me quite some time ago, and which I've found beneficial is to take time to visit authority sites in my niche. This may not necessarily result in traffic from these blogs directly, but by leaving thoughtful comments, other readers of those posts may see my comments and decide to come over and check out my blog.
3.  List Building:  This takes traffic a step further because it's a way to capture this traffic so that you can build a relationship with them and market to them.
4.  Product Creation: Every marketer should have the goal of creating your own product.  This is so even if your niche in internet marketing is affiliate marketing. This can be a lucrative form of marketing, however, you will experience a different sense of accomplishment when you've created your own product.
5.  Repurposing Content: You always want to seek ways to leverage your time and an effective way to do this is repurposing.  Once you've created content for your blog, you can repurpose that content by sending it in an email to your community of subscribers; you can use the content, along with other posts, to create an ebook.  You can also add to the post and make some changes to the content, which you can then submit to article directories.
Article writing is a great way to get more visibility and accomplish all four of the above points. Connie Ragen Green who's written over 1,000 articles  is offering a free report on "How to Write A Keyword Targeted Article."  Visit http://mysuccesscircleonline.com/crg-ampw to claim your free report today.