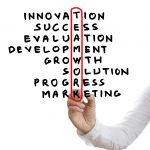 As I did further research on putting together a Marketing Plan for my business I found a great deal of information on the topic.  A point that was immediately evident is that whether you are marketing a service or product one of your biggest challenges is to determine how you will reach your customers.
One publication recommended doing a study of what your competition is doing since they would already have done the research to find out what works best.
This reminds me of a study I did several years ago for a business project, which showed that two of the largest national hardware stores in the United States are often built in close proximity to each other.  The major chain built a store in an area only after careful study of the demographics, etc.  The other chain took advantage of that research and built a store in the area as well.
The following are some offline and online marketing methods that can create growth in your business:
Blogging
Article Marketing
Social Media
Affiliate Marketing
Teleseminars
Press Releases
Printed Materials  – business cards, brochures, and flyers
Newsletters
Networking – Attending local events, like the Chamber of Commerce and other networking events in your community
Customer Service
Word-of-mouth
Telephone
The last three are, in my opinion, the most important marketing strategies.  Customer service or customer satisfaction means that you take the time to identify the needs of your customers, whether they are online or offline, and satisfy those needs.  The result is loyal customers.  When you have loyal customers they will spread the word about your business and are willing return to do business with you time and again.  It's much easier to get people to know, like and trust you when they've been referred to you by people who already do.
So, which of these will be in your Marketing Plan?  My Marketing Plan will primarily focus on Customer Service, Blogging, Article Marketing, Affiliate Marketing, Social Media, and Teleseminars.
Many people scoff at the idea of writing things down.  However, if it's not in writing on your computer or on a hard copy, how will you keep track?  My recommendation is: Don't wait until June 1st.  Take the time to make a schedule now of how many times per week you will engage in a particular task and set accountability with yourself that you will not go to bed until that specific task is done.  While you're at it, set a time limit.  It's too easy to go on Facebook or Twitter and spend an hour or more.
I'd love to hear about your Marketing Plan.  If I can provide you with additional information, please send me a message in the Comments, a DM on Twitter, or a message on Facebook.