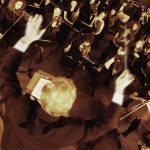 One acronym for F.O.C.U.S is Follow One Course Until Successful.  Focused action can also mean turning your back on the audience so you can guide the orchestra to produce beautiful, melodious, well-coordinated music.
Last week I attended the 8th Grade Graduation Ceremony of one of my young friends and a segment of the ceremony was a musical piece by the 8th grade band…and what a beautiful selection it was! As I watched and listened my eyes were captured by the movements of the teacher who was conducting the band.
Her back was to the audience and her attention was focused on guiding, by the movement of her hands and the baton, the orchestra so that each member of the band knew exactly when to come in, and when to play louder or softer. This ensured that we, the audience, derived the best enjoyment from the musical piece.
As entrepreneurs we are the band leaders or conductors of our orchestra – our business. Just like a band with several different instruments, there are many parts to our business and we have to decide when to give each part our undivided attention so we can create music – profits – for online business success.
Focused action is an ongoing challenge for many of you as it is for me because of the distractions, online and offline, in running a business. The decision has to be: Will I turn my back on those distractions and focus on my business for specific time periods?
One of the things that has helped me to get better results and accomplish more online business success is to set aside time- blocks where I give focused action to my business for 90 minutes to 3 hours, without interruption. I take a break for 15 minutes then go for another 90 minutes or more.
This is one of the strategies taught by Helen Raptoplous in the 30 Day Productivity Challenge membership. If you'd like to learn more productivity strategies to renew your focus, you're invited to join Helen for a FREE actionable teleseminar on Thursday, June 23, 2011 at 4:00 p.m. EST. Go ahead and register at http://budurl.com/HRprod.
In the meantime, why not set aside 90 minutes when you turn off everything except your computer or whatever you need for your specific online business and spend some focused time working  for your online business success? The last time I did this I had incredible results in moving forward. I'd love to hear your incredible results.