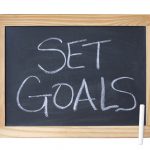 "When you values are clear to you, making decisions become easier," Roy Disney~Executive.
A large component of your visions for your life and business will be determined by setting goals effectively.  A good place to start is by asking yourself, "Where do I envision myself in five years, or even 10 years?"  "What would I like my life to look like?"  "How can I use my business to get me to that place?"  "What impact can I make on others using my business as a vessel?"
These questions and similar ones will cause you to think beyond the surface, and help you to identify your true motivations and aspirations.
Goals need to be specific and positive: Each goal should have a start date, check-up dates, and end date.  This is the only way you will be able to measure your progress.
Outline the steps needed: It's important to write out all the steps you need to take to accomplish a particular goal.  I personally had the experience a month ago when I outlined my goals for the month.  Because I did not outline all of the steps required to accomplish a particular goal, I got to a certain point and realized the project would take me much longer as there were still other areas that had to be incorporated.
Be careful that you do not have too many steps to one particular goal as you could become discouraged as your accomplishments may not appear to be taking you closer to your goal.  Roy A. Ackerman of adjuvancy.com, an avid blogger,  noted recently, "If you find the goal needs six or more tasks, break it into two goals, because there are too many items needed to achieve this.  …breaking it into definable items that can be completed helps you reach the ultimate goal- achieve your vision."
State the goal in a positive way: Several years ago I listened to the recording of a motivational speaker and she discussed the effects on the brain of stating goals in a positive way as opposed to negative terms.  She gave an example of this:  Most people say they want to lose weight, but lose is a negative word, and the tendency is that when you lost something you want to go back and find it (so we put the weight back on).  Changing that goal to a more positive statement would be to say I will release….pounds by….
Be comfortable with your goals: The motivation to achieve your goal must come from within.  It cannot be someone else's desire or goals for you.  You must desire to achieve the results.  If not, y0ur success rate of seeing it through to its conclusion will be very slim.
Share your goals: Share your goals but be selective with whom you share them.  Share them with people who will be your cheerleaders – your balcony people who will provide positive reinforcement on days or periods of times when you don't seem to be moving forward.  People who will simply check with you to offer words of encouragement.
So do you have dreams or goals?  Remember, that your goal is just a dream if you fail to write it down…but in life there are usually stumbling blocks.  What are some of these stumbling blocks that can derail your goals?  Those will be discussed in a future post.