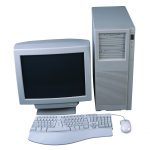 New Year Resolutions?  Why wait?  At this time of the year many people start to focus on what they want to achieve in the new calendar year and so they make a list of their new year resolutions.  But as I started thinking about it, I wondered if it would not be more beneficial to start those processes right away.
The main advantage is that when 2011 starts, you will already have begin to implement the changes you resolve to make and would have strategies in place to get the desired results.
Reducing clutter important.  Experts confirm that in order to expand and grow, you must remove or reduce clutter in your life.  For those of us who work from home this can be clutter on your computer, clutter on your desk, and clutter in your home office in general.
Declutter Your Computer. Does your desktop look like a billboard with neon colors?  Do you have folders on your desktop that you have not opened for quite some time?
Many of us like to keep folders that we access frequently right on our desktop.  But it's important to also keep in mind that having a lot of files/folders on your desktop slows down the process when you start your computer.  From time to time you can clean up your desktop and place all folders you have not used in a while in one marked "Unused Desktop,"  but do you even need to do that?  Why not delete them since you've not used them?
I recently found that I had a number of duplicate files on my desktop as I'd placed them there for downloading on a CD or to insert in a document then forgot to delete them.
Action Steps:
1) I spent about 45 minutes earlier this week moving folders that I wanted to keep, but did not use very often, from my desktop to the C: drive.
2)  I also moved some folders to an external storage device – a simple SanDisk, and made sure that I noted what I was storing on the disk.  It's kept in a drawer next to my desk so it's easy to retrieve when I need those files.
My desktop now looks a lot neater and organized in a way that's more relevant to what I'm doing.
What about your hard drive? I create folders for various marketers, my own projects, topics that are relevant to my business, classes I'm taking or have taken, etc.  My goal for the next two days is to review folders and files on my C: drive, delete what I've not used in a year and store any large files I use only occasionally on the SanDisk.
Since I like to listen to training CDs while I'm driving, many of the MP3 folders on my hard drive are duplicates of CDs I've already made so those will go as well.
Action Step:
I deleted programs I've not used in at least two years.  Be careful when doing this as you don't want to delete a program that supports other programs you'll keep.  I did that will an Apple program that supports ITunes.  I'll need to reinstall Itunes.
Your computer will thank you and you will be ahead of the game in reducing clutter instead of waiting until January 2011. Start now and that's one new year resolution you wont have to make 🙂
What challenges do you face to declutter your computer and how do you deal with it?  Please share as we can all benefit from each other.