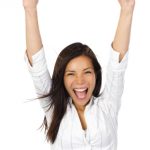 How do you view success?  Many people grew up with a negative attitude toward the word "success".  They were raised to believe that if you focused on having success in your life, it immediately branded you as being narcissistic or materialistic?  But is that always the case?
It is true that an unhealthy desire for success at any cost has caused many persons to show undesirable qualities such as greed and selfishness.  However, to the average person success may mean achieving more to make choices, build your self-worth, or accomplish a goal.
Do you ever find that you talk yourself out of success by indulging in negative self-talk?  Do you tell yourself you could never attain those 'lofty' goals? Do you set yourself up for failure by listening to the negative voice within?
Rather than listening to the negative voice, you can use positive self-talk to counter the negativity and overcome many anxious thoughts.  It has been said that if you fail to set a goal, you will reach it every time. How can you set goals effectively?
Identifying your goal and writing it down is the first step in goal-setting.
The next step is to formulate a plan, which will include a start date and an end date.  As your thoughts flow you will become filled with excitement on how you will accomplish the steps needed to achieve the goal.
At this point are negative thoughts creeping in once again?  Do not allow them to take hold.  Stop negative self-talk and replace them with positive self-talk.  You may need to repeat positive affirmations like, "I am a smart, capable woman (or man); I can do this;"  "I am filled with positive energy and action." "I deserve to succeed because I am worthy of success." On a personal note, I never forget to pray for the strength to accomplish what I've set out to do and to see it through.
Do you ever battle with negative self-talk in your online business? How do you deal with it? What methods do you use to remain positive and keep your motivation high? Please share.