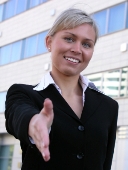 It takes a lot of people to make you truly successful in most fields of business, but this is especially true when you work online.  No one can claim success without attributing thanks and appreciation to many.  Relationship building has to be an integral part of our online business.
Content Creation
Writing your own content is always the best and is recommended, but if you are writing blog posts regularly, you'll eventually need help with generating ideas for your topic.  I sometimes use Private Label Rights (PLR) to trigger ideas on a given topic.  Once I determine the direction I'm going, often based on the PLR product, my thoughts will begin to flow and generate my own ideas on the subject.  If it's a topic that I'm not very familiar with, then I depend more on well-written PLR articles and reports to guide me in laying a solid foundation that I can build on.
Private Label Rights content are great for filling in the gaps, but never use them for article content that you submit to article directories.  These reports, ebooks and/or articles are written by ghostwriters and sold for use by whomever purchases them.  It's important to be selective in the source of the material and be sure that these are sold in limited quantities.
Your Blog
You have lots of valuable information to share with the world, but if no one is reading your blog posts and sharing your information, your visibility will be greatly reduced.  Becoming part of the blogosphere and make meaningful comments on other blogs will result in other bloggers coming to your blog to check out what you've written.  When they leave a comment on your blog, retweet your post on Twitter or share your post on Facebook or LinkedIn, your visibility will be greatly increased.
I've only covered two areas of our online business, but it's clear that for us to be successful in just these two areas, we need other people.  We must engage in relationship building.  It's therefore important that we reach out and connect with others and seek to daily expand our online community because we  need each other for success.
What are other areas you've found it very helpful to have people who support you in your online business?  Please share below.