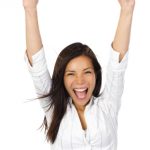 How do you view success?  Many people grew up with a negative attitude toward the word "success".  They were raised to believe that if you focused on having success in your life, it immediately branded you as being narcissistic or materialistic?  But is that always the case?
It is true that an unhealthy desire for success at any cost has caused many persons to show undesirable qualities such as greed and selfishness.  However, to the average person success may mean achieving more to make choices, build your self-worth, or accomplish a goal.
Do you ever find that you talk yourself out of success by indulging in negative self-talk?  Do you tell yourself you could never attain those 'lofty' goals? Do you set yourself up for failure by listening to the negative voice within?
Rather than listening to the negative voice, you can use positive self-talk to (more…)