In Part I of this topic I introduced the bumblebee as well as featured one of it's characteristic: it's wings in relation to it's body.  You may read Part I on how home-based businesses can benefit from the bumble bee by clicking on this link.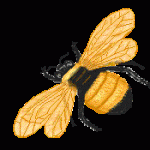 Another characteristic of the bumblebee is that it's a "social insect." Like honeybees they form colonies, only smaller.  Their colonies typically have anywhere from 50 to 200 bees at the max.
How can entrepreneurs who work from home in offline businesses be part of a colony or group?  Like the bumblebee, entrepreneurs need the association and support of like-minded groups.  In fact, groups do not have to be like-minded because these can open horizons and provide a different perspective on your business, therefore enhancing your current business and introducing other opportunities.
Even in small towns there are business groups like the Chamber of Commerce, Rotary Clubs, the Jaycees, Business Network International (BNI), one of the most supportive business networking groups.  There are also other local networking groups, which are not to be confused with meetings for a particular MLM or direct sales group. These are meetings attended by entrepreneurs and small business people  (more…)