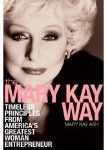 In 2003 Mary Kay Ash was awarded the title of Greatest Female Entrepreneur in American History, and a Wharton/PBS Study named her one of the 25 greatest business leaders of our time.
It therefore follows that the principles outlined in the book, "The Mary Kay Way:Timeless Principles  From America's Greatest Woman Entrepreneur"  can be applied to anyone –male or female– who has to deal with people and is aspiring to build a successful business.
1.  Embrace the philosophy of the Golden Rule as a daily guide for business interactions with fellow employees and personalized customer service.  The result is a commitment to excellence and the foundation for every leadership decision.  Based on Matthew 7:12.
2.  Good leaders should never have dollar signs in their eyes, regarding people merely as profit.  Rather, the concern should be how you can help each person to reach their full potential and feel better about himself or herself.
3.  A good leader will confront problems that involve people with sensitivity and seek the best solutions, but solutions cannot compromise the leader's responsibility to her company or to other people within the organization.
4.  A company is only as good as its people.  People are what makes a great business enterprise excel. Be willing to pay top-dollar for top talent (goes for outsourcing as well), you will have a team of hard-working, efficient employees.
5.  In greeting someone, regardless of their status and how tired you are, look each person squarely in their eyes and do not allow anything to distract you.  Whenever possible try to give a personal compliment.
6.  Every person is special and it's important to make them feel that way.  Mary Kay said that whenever she met someone she imagined him or her wearing an invisible sign that says, "Make me feel important."  She strongly recommended that no matter how busy you are, you  take time to make the other person feel important.  Good leaders can bring the seeds of greatness planted in everyone to fruition.
Let people know that you appreciate them and value them.  Show respect for them by listening to them.  You may learn something in the process.
7.  Praise people to success.  The power of positive motivation is what inspires people to maximize their true potential.  Recognition is the most powerful of all motivating techniques.
A very simple but effective and powerful source of praise is giving applause.  When was the last time you applauded someone for doing something good, or when was the last time you were applauded?
A leader must recognize that everyone needs praise, but it should be given with sincerity.
Which of these principles appeal to you the most?
Stay tuned for a review of principles found in Chapters 6 – 12.