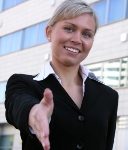 There are many schools of thought regarding offline networking. Some think it's a waste of time, others think it's a chore to attend events where you may know just one or two persons. How do you personally feel?
I enjoy attending networking events because I usually get to meet new people. I enjoy finding out what makes people 'tick' – their hot button, and the only way to do this is by taking time to converse with them. It's easy to become overwhelmed at the thought of a room full of 20-50 people or more depending on the event but let's focus on just ONE area that may help to make attending networking events more fun than chore.
You may be a Solo Professional, Entrepreneur, Small Business Owner, or you may be an Independent Contractor for a Corporation and are responsible for finding your own Leads. New connections are essential to your business.
Your Goal:
1) Before the event, decide how many people you'd like to connect with. There usually is not enough time to have meaningful conversations with more that a handful of people so a realistic goal is probably to develop a relationship with two or three people. You may be thinking, "Two or three people? That's a waste of time and (perhaps) money!" Would it really be a waste of time? Remember that your goal is to build relationships with the two or three. To build something takes time and effort. At most networking events I've attended there's a small time-frame to socialize before the presentation, and again after the main event. Your aim should be to use these time periods to connect with people.
2) You start building a relationship by showing interest in the other person, what they do, how long they have been doing it, and do they like what they do; what are their challenges?  And never forget to ask how YOU can help them. At this point if they also understand the concept of true networking, they should now ask you what do you do and you have an opportunity to give a brief but meaningful presentation. Regardless of how many people are in that room, your focus is on the person or persons to whom you're speaking.
3)  So you attended the event, you connected with two or three people and you found you might be able to be of assistance to them in some way. Now what? Your goal is to keep that line of communication open. Within a day or two send them a "Nice to Meet You" card without a sales pitch or any of your promotional materials. You can decide to follow-up with a phone call and take it from there. Perhaps these tips can help you to look forward to your next networking event with pleasure instead of a chore.