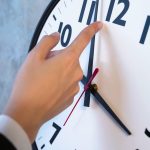 I just wish I had more time!" "Where did the time go? I just wish I had more hours in the day." Have you ever made any of those statements or asked that question? In reality you're saying that you were given less hours than others, but we know that isn't true. Time is the great equalizer.
W all have the same 24 hours in each day. What makes the difference is how we use those 24 hours. You probably could think of quite a number of persons who seemed to have accomplished a great deal in their lifetime, and often in a short time. They did this within the framework of 24-hour days.
Are you discouraged with how little you seem to accomplish while others seem to accomplish a great deal more in a short time? If you do, you're not alone as I've felt that way at times. What are the possible stumbling blocks? Some of these are –
Seeking perfection. One person will have a vase and a bunch of flowers which they'll randomly stick in the vase and they have an attractive display. The other will have the same two things, but they'll spend a much longer time trying to achieve symmetry and matching blooms so they balance just so, while the only person who'll probably notice those intricate details is the one who did it.
Lack of organization: Disorganization is a huge time-waster. Searching for papers, documents, etc. is great waste of time – yours and others. There is no question about it that to make good use of your time, you must stay organized. No fancy storage system is required, but having a specific place for certain things will allow you to find them immediately when you need them rather than running around searching here and there, frustrating yourself, and wasting precious time. Your lack of organization may affect others so that you end up wasting their time as well.
Taking on more than you can manage: Most of us have a natural desire to help others, and we also have a problem saying, "No." We often take on much more than we can comfortably handle and find that by saying "Yes" to too many things we actually become unproductive. How is that possible, you may ask? The answer is simple: Time spent on one thing is time away from another. This goes hand-in-hand with the questions small business owners and entrepreneurs should keep asking themselves, "Is what I'm doing taking me closer to my goal?"
If the task is something that could easily be done by someone else, and is not in line with your goals, whether these are personal or business goals, and is actually robbing you of time you had scheduled to work on these goals, it is not an effective self-management decision. This is in no way encouraging selfishness or a 'me-first' attitude, but in order to practice good self- management, you should have a plan or strategy for the various aspects of your life and work at sticking to your plan in order to reach your goals.
Because it's self-management or managing yourself, no one can tell you exactly how you should do this since everyone's circumstance is different. Further, there are people who can set schedules and live by them, while others like to go with the flow.
It's important to remind yourself that to the extent to which you practice good self-management it's to that extent you'll make good use of your 24-hour days, be productive and reach your goals.
We are all at different levels in our business. If you're just getting started, claim my Free Checklist at http://getyourbusinessonlinetoday.com