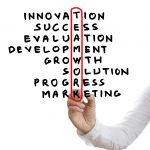 As I did further research on putting together a Marketing Plan for my business I found a great deal of information on the topic.  A point that was immediately evident is that whether you are marketing a service or product one of your biggest challenges is to determine how you will reach your customers.
One publication recommended doing a study of what your competition is doing since they would already have done the research to find out what works best.
This reminds me of a study I did several years ago for a business project, which showed that two of the largest national hardware stores in the United States are often built in close proximity to each other.  The major chain built a store in an area only after careful study of the demographics, etc.  The other chain took advantage of that research and built a store in the area as well.
The following are some offline and online marketing methods that can create growth in your business:
Blogging
Article Marketing
Social Media
Affiliate Marketing
Teleseminars
Press Releases
Printed Materials  – business cards, brochures, and flyers

(more…)