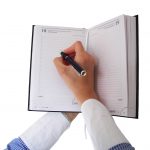 If you work from home you invariably have multiple responsibilities.  You may be a work-at-home-woman or a work-at-home-man. Your reasons for working from home may differ, but ultimately the goal is the same: To earn an income from the business activities you engage in from home.  Note that I mentioned "from home."  While home is the base for many of us, our actual work activities may take us away from home for chunks of time. On the other hand, some jobs may involve spending the majority of time working in your home office.
Set a Schedule and Learn to Say "No"
The challenge for many of us at the end of each day is answering the question,  "Where did the time go?" People who work from home usually fall into one of two camps: 1) Those who set a schedule and try their best to stick to it 2) Those who 'go with the flow.'
If you have a schedule, do you stick to it or do you find yourself constantly engaged in non-business activities during designated business hours?  Do you find it hard to say "No" to various requests from friends and family?  An honest response to "Where did the time go?" may reveal that your fear or reluctance to say "No" to others could be contributing significantly to valuable loss of time that should be spent in your business.
It's important to note that your fears of offending others may be  based on your perception.  It may not necessarily be based on the reality of how others will respond when you explain your priorities.   It may surprise you to know that many of your friends and relatives really have no understanding of what you do from home and therefore are unaware that you have designated specific times to work.
An example of this could be a close relative who asks you to do something at 4:00 p.m.  You've, however, scheduled 4:00 – 5:00 p.m. as laser focused time to work in your business before your family gets home.  Do you say Yes, with resentment, or do you explain that you'd be happy to help out at another time during the day, but this is time you've scheduled to work?
Our fear of saying "No" is closely tied in to our desire to please others and to keep them liking us.  The purpose of this post is not to encourage selfishness, but to remind those of us who work from home that it may necessary to say "No" to others when you have a schedule for your business.  Help others to respect your time and your schedule while you're working from home.