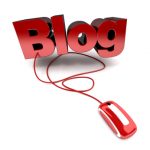 Recently I was talking with a small business owner about become more visible online and we got to the topic of having a blog.  I got a negative reaction and wasn't sure why, so I asked searching questions.   The reasons for the negative response became clear very quickly.  The business owner's concept of blogs was that blogs could not have any beneficial effect on her business since blogs are just logs or updates of what people do on a daily basis.
There are people who use blogs for that purpose, but large companies are now using blogs to reach their market and build an audience, gain online visibility, and promote their business.  This in itself should make anyone who underestimates the value of having a business blog stop and think.  If large companies are taking advantage of the benefits of having a blog, how much more can this benefit small business owners?
Here are five important reasons why blogging can enhance your business and should be part of your internet marketing strategies:
1.  Google and the other search engines love blogs.  Unlike static websites, blogs are updated frequently so that when the search engines crawl your website they find valuable new content that can help to improve your rankings in the search engines.
2.  Blogs help to establish your credibility and increase your visibility. By providing valuable content on your blog you're able to establish your knowledge as an expert in your niche.  In addition, when you provide valuable tips that benefit your readers, your readers come to recognize you as a credible source of information in your market.
Many people are searching for resources online and if you market offline, your expertise can become recognized by your offline prospects who are searching for information in your market.
3.  Encourage More Visitors/Readers: One of the challenges many bloggers have is that they spend an incredible amount of time writing, but get very little visitors to their website.  When your titles and content attract readers, they are more likely to be repeat visitors, and will also be more inclined to subscribe to your RSS feed.
4.  Re-purposing your content is a very effective way to use your blog posts.  Perhaps not every post, but in general, you may be able to re-purpose your blog posts into articles for submission to various article directories.  There are many benefits to taking the next step of Article Marketing.
5.  Reprints and Exposure: Your posts and articles may be reprinted in various places, and while some people may not give you credit, for the most part, when someone re-publishes one of your posts or articles, if they follow the rules, they'll likely give you credit, thereby opening the way for you to gain more publicity.
Many  small business owners who market offline, offer products that are not limited to their geographical area and these can be opportunities for free publicity.  Further your local media could pick up an article or someone in a local organization may find your topic so interesting that they invite you to speak at a local event.  the possibilities are endless.
From the foregoing, would you agree that having a blog is essential whether you have a business online or offline?  A blog is a "must" as part of your online marketing strategy.